MANUFACTURER OF GLUTEN-FREE FOOD
GFSP brings together a team of people who are experts in gluten-free production technologies. Since 2011 GFSP has been manufacturing its in a production facility located in Poland.
We will answer to all you enquiries on products Simply get in touch
Pursuing our growth path we keep on establishing new business relationships in Poland, but also abroad. GFPS manufactures "tailor-made" food and runs its business based on the referral of our consumers. The taste of our products and production flexibility are important elements that contribute to our competitive advantage.
At present, we supply our products to many European countries: Poland, Czech Republic, Germany, Slovakia, Hungary, Ukraine, Russia, the Netherlands, Luxembourg, Belgium, Norway, Italy and Bulgaria.
We are experts in production and distribution of bakery and pastry products. Our products are free of gluten, soy, casein, lactose, eggs and nuts.
Incola brand was launched in 2011. Currently the range branded Incola includes more that 50 gluten-free products.
GFPS manufactures its bakery and pastry products under a private label of overseas customers.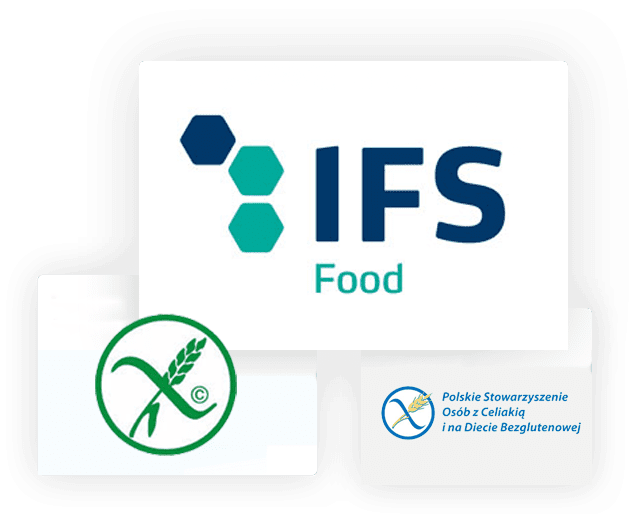 The certificates that we hold speak for the quality of our products:
International Food Standard IFS Food.
Crossed Grain licence under European Licensing System.
Stay up to date and see our new products. Here you will find out the updates on the company and where you can meet with us